CONTINUE TO LEARN AND BE INSPIRED
Visit ChooseMyPlate.gov for more information like the tips below!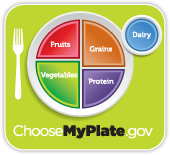 Find the amount of calories in your serving of a recipe
Find out the nutrients and calories in your personal recipes using My Recipe. Find out how much 1 portion contributes to your daily calories. Need to reduce your portion size? Find out!
My Recipe https://www.supertracker.usda.gov/MyRecipe.aspx
Low Calorie Convenience Foods
Need a quick pick-me-up? Find out what's in healthy, low-calorie convenience foods using #Food-A-Pedia. Try a single-serving container of applesauce or yogurt (fat-free or low-fat) or a pre-packaged container of fruit. Food-A-Pedia shows you what's in other healthy, low-calorie convenience foods! https://www.supertracker.usda.gov/foodapedia.aspx
Platillos Latinos ¡Sabrosos y Saludables! is a resource filled with heart-healthy Latino recipes from the National Heart, Lung and Blood Institute.
English and Spanish here: http://www.nhlbi.nih.gov/health/public/heart/other/sp_recip.pdf
Understanding the Ebola Virus and Other Enteroviruses

As you may be aware, there are growing concerns across the country as several viruses and enteroviruses
continue to spread. Also, with winter approaching, flu season is upon us. As part of a partnership with
the Y, the Nonprofit Risk Management Center has created this list of tips and information to help you and
your families stay healthy!
Find it here: Understanding Ebola and Other Enteroviruses