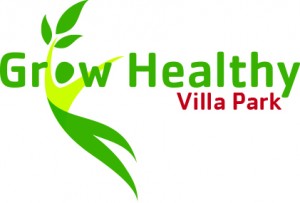 Grow Healthy Villa Park leadership team is comprised of the following leadership team members:
Catholic Charities, School District 45,  School District 48,  DuPage County Health Department, FORWARD,  Greater Works Church of God in Christ, Parkwood Community Church, Russell Chiropractic,  St. Paul's Lutheran Church, Tri-Town YMCA, Villa Park Chamber of Commerce, Villa Park Library, Village of Villa Park, Parks & Recreation, Willowbrook High School.
Assessments During Fall 2011 and through Spring 2012 Tri-Town YMCA conducted a Community Healthy Living Index surveying and interviewing residents and community leaders within schools, churches, businesses, village government, and neighborhood organizations.  Many positive influences such as the location of the Prairie Path and Great Western Trail within Villa Park were noted.  Key findings for removing barriers to making the healthy choice the easy choice included:
Rarely to never are vending/concessions predominantly healthy. There is little availability of gardens or farmers markets in parks.   There are no written guidelines concerning positive staff modeling of healthy eating in workplaces, schools, after school sites, and other community organizations.  Crosswalk counters or similar traffic calming measures are not always available in areas where pedestrians need to cross busy thoroughfares to access grocers with healthy foods.
Objectives
Increase policy adoptions which address either increased access to healthy food and beverage options, the prohibition of sugar sweetened beverages, and/or increased modeling by key staff of the enjoyment of healthy foods and beverages.
Increased access to healthy foods and beverages will provide people with the ability to achieve a healthy weight.  Increased modeling by key leaders in businesses, churches, schools, government, civic organizations, and neighborhoods will motivate others to consume the healthy foods and beverage which will lead to achieving a healthy weight and good health.
Through promotion, encouragement, and celebration of healthy messages and best practices and strategies, individuals will be supported in increasing their healthy living options.