ENCOURAGING GOOD HEALTH, FOSTERING CONNECTIONS
Flyer for Older Adult Programs
Water Exercise
Open to swimmers and non-swimmers, this class is easy on the entire body, without painful side effects that other sports can inflict. The water's buoyancy makes this an excellent therapy program.
Water Fitness 2016 Schedule
Winter Session
Monday, January 4th – Monday, April 4th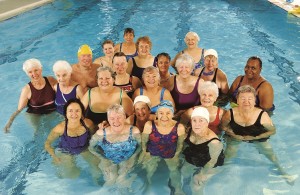 Thursday, January 7th – Thursday, April 7th
Spring Session
Monday, April 11th – Monday, June 27th
Thursday, April 14th – Thursday, June 30th
Summer Session
Monday, July 11th– Monday, September 19th
Thursday, July 7th—Thursday, September 22rd

Fall Session
Monday, September 26th – Monday, December 12th
Thursday, September 29th – Thursday, December 15th
Off days: Monday, May 30th (Memorial Day), September 5th, &  Thursday, November 24th
Classes: 
Monday 9:30 – 10:30 AM
Monday 11:00 AM – Noon
Thursday 9:30 – 10:30 AM
Thursday 11:00 AM – Noon
Fee: $75 for a seasonal session
$150 for 2 days per week
Location: Lexington Square, 555 Foxworth, Lombard
Senior Outreach Programs and Solutions
The Tri-Town YMCA can help you network with the right agency. Call 629-9622 for information regarding any of the following programs.
Home-bound Reading Program
This program is offered in conjunction with the Helen Plum Library, for Lombard residents. Volunteers deliver books to those who are unable to go themselves. The YMCA interviews the home-bound and sets up a delivery system. If you enjoy reading, and would like to share the experience with seniors who are home-bound, call 629-9622.
Sunshine Program (Click Here To See FLYER)
YMCA staff and volunteers make daily phone calls to those who are home-bound or living alone. This program is designed to bring a little friendly conversation into each person's day and to confirm that each person is well and needs no assistance. If help is needed, the YMCA can initiate the proper action. If you, or someone you know, would benefit from this program, please call us. Persons wishing to participate as a volunteer Sunshine Caller should also contact the YMCA.