FOR COMMUNITY
ATTENTION: Tri-Town YMCA will offer a Half-Day Program on Feb. 12 for District 44. The programs will take place onsite at Hammerschmidt, Madison, Manor Hill and Pleasant Lane. Park View will be bussed to Pleasant Lane. Registration is open. Click the link to register online or call (630) 629-9622.
In the News:
Tri-Town YMCA currently offering Marlyn & Betty Meyer Scholarship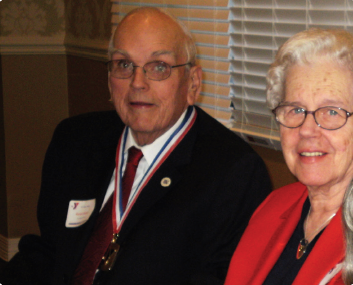 Tri-Town YMCA has announced a special scholarship opportunity available to graduating high school seniors from Glenbard East who have belonged to one of its programs for at least one full school year. The Marlyn and Betty Meyer Scholarship, aptly named to honor the spirit of service and compassionate commitment embodied by the late lifetime Lombard resident Marlyn Meyer and his wife Betty, is made possible for the first time this year due to a generous gift made to Tri-Town YMCA, which Marlyn helped to establish nearly 50 years ago.
A portion of the gift donated by Betty has been designated to provide the selected high school senior with a scholarship in the amount of $300 to be applied toward tuition at a two-year or four-year college or at a vocational or trade school. This fund represents the intertwining of two loves, including former village trustee and Glenbard High School graduate class of '44 Marlyn Meyer's love for the Tri-Town YMCA, where his own children and grandchildren have both participated in and led programs, as well as Betty Meyer's love for education, particularly through the medium of music.
"I always had music growing up," said Meyer who, at 86, reflected fondly on a lifetime of teaching both locally and downstate.
"I've always been interested in helping children get acquainted with the folk music of this country and with various kinds of classical music suited toward their interests. I think that sometimes we forget about the arts, and sometimes we look past students who have talents in more artistic expressions."
For Meyer, a past president of the Lombard Elementary School District 44 School Board, education may very well run in the family genes, as her youngest daughter and granddaughter currently teach in the Lombard area. The Y served as a staple in her growing family as her children participated in the Y's Princesses and Y's Guides programs, which aspired to strengthen fathers' relationships with their children while instilling essential values and traditions.
"I think these activities really proved that you don't have to have a building with large expenses to have good programs," said Meyer. "After my family got involved, they made some good friendships along the way, and it was good for dads, too, who may not have many other outlets."
Current Glenbard East High School seniors who have participated in these and other Tri-Town YMCA programs, such as the Y's Kids After School Program, for a full school year are eligible to apply for this scholarship and may submit an application, which is available at www.tritownymca.org/scholarship/, along with a one-page essay reflecting on what their participation in the organization has meant to them.
This opportunity is not solely based on GPA or academic achievement, as the Y firmly believes that youth aptitude is measured by more than grades and test scores. Applications must include a letter of recommendation of less than one page completed by a coach, clergy member, teacher or YMCA staff member detailing the applicant's strong character, particularly as related to the Y's values including caring, honesty, respect and responsibility. All submissions must be received by 4 p.m. on Friday, Feb. 26, through e-mail to office@tritownymca.org, or through mail to Tri-Town YMCA, located at 1464 S. Main St. #7, Lombard, IL 60148.
All applications will be reviewed by the Tri-Town YMCA Scholarship Committee. A decision will be made and communicated to the winning applicant by the end of March, who will be announced at his or her high school awards ceremony.
Meyer, who looks forward to assisting a student toward achieving his or her academic dreams, continues her deep involvement in the Lombard community, where she has served as a former president of the Lombard Service League, as well as the Lombard branch of the American Association of University Women (AAUW) and of P.E.O. International, a nationwide philanthropic educational organization in which participating women help to motivate others to advance their education through scholarships, grants, awards and loans. Today, she remains a member of the First Church of Lombard, where she currently plays the handbells in her congregation, and she also accompanies a choir at Lexington Square Senior Living Center.
Meyer professes that she has enjoyed watching the growth of this town, from the construction of Lombard Village Hall, the Helen Plum Library and the police department, to viewing the flowers blooming in Lilacia Park to the establishment of the then-Lombard YMCA in 1966 led by her husband Marlyn, Jack Brust, Dick Arnold and other community leaders.
"There are a lot of people who donate a lot of their time to this community, and when more people are involved in service, it makes the community so much better," said Meyer.
About Tri-Town YMCA
Tri-Town YMCA is an independent association of one of the nation's leading nonprofits strengthening communities through youth development, healthy living and social responsibility initiatives. Tri-Town YMCA serves the communities of Lombard, Villa Park and Oakbrook Terrace by providing quality enrichment programs to residents of all ages, as well as financial assistance to aid low-income families in securing the support they need to enhance their development and wellbeing. This year, the Tri-Town YMCA is celebrating their 50th Year Anniversary as an enduring force within its communities and will dedicate much of its fundraising efforts toward increasing the outreach of its feeding programs to benefit the children of low-income families that may struggle with food security. The Y strives to nurture the potential of local school children physically through its feeding programs in low-income areas, mentally through its literacy and STEM (Science, Technology, Engineering and Math) academic enrichment programming and spiritually through the building of a sense of belonging, strong character and Christian values.