What Is New At The Y?
Online Registration is now available! Currently enrolled in Y's kids? You may already have an account! More information on our registration page.
Registration is open online for Fall Camp November 24-26. See details below.
Send a gift to your community  while sending greeting cards designed by TRI-TOWN YMCA. Purchases can be made through our online store by clicking the image below!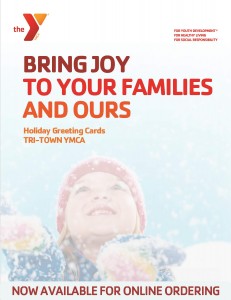 November 24: All Day Program – Healthy Human Day!
-Your child will enjoy a day of fun and excitement while exploring the human body! We are going to take a trip through the human body systems by playing games and doing activities to determine what make our bodies go and grow. REGISTER
CAUTION: Your child may learn something today!
November 25: All Day Program – Disney/Pixar Day!
-Your child will enjoy a day of activities based around your child's favorite Disney/Pixar movies and characters! Activities include creating their own Disney theme park, and creating their own story using some of their favorite characters. Your child is encouraged to wear Disney/Pixar themed clothing and to make sure they don't forget their imagination at home! REGISTER
November 26: All Day Program – Happy Turkey Day!
-Your child will enjoy a day of activities based on the Thanksgiving Holiday. Activities include Thanksgiving themed arts and crafts along with physically active games with a Thanksgiving twist. We will also explore how to make the holiday a healthy one by going over "no and go" Thanksgiving holiday foods along with other healthy holiday tips! REGISTER
November 29th- December 20th: Christmas Tree Fundraiser
Look for us at our new location this year, Dania Furniture corner of Finley & Roosevelt Rd, beginning November 29th!
February 7th: Candlelight Bowl
Spare an evening; bowl a strike! Saturday February 7th join us for the second annual Candlelight Bowl at Stardust Bowl in Addison!
Spring 2015: Tri-Town Toast
Our signature wine and beer tasting event will have a new look and a new date next spring. Details coming soon!