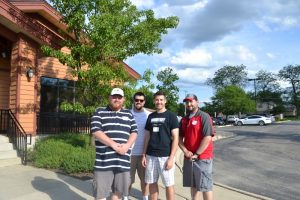 We Are Getting Ready to Tee Off!  Pencil in June 21st for the 22nd Tri-Town Classic!  Golfers or Sponsors, click below: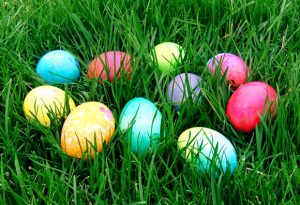 Get Set for Our First-Ever Egg Hunt on April 12!
Hop on down to North School on Friday, April 12 at 6:30 p.m. and fill up your basket with prize-filled eggs! 5,000 eggs will be ready and waiting in age-designated hunt areas for the following kiddos: 0-2 (with parent), 3-4, 5-7 and 8-12. AND you'll have a chance to meet and greet (and photo opp) with THE Bunny! Register at left and get the $5 early-bunny special!
Camp Registration Now Open!
Summer is just around the corner, and our camps are better than ever! There will be water parks, nature hikes, fantastic field trips, cook outs and more.
We can promise lots of friends and even more adventures! What we can't promise is availability! Sign up before it's too late:  click "Register" on the left. Click below and check out the details of our Lombard and Villa Park camps:
Tri-Town Is Spreading Sunshine to Local Seniors! We'd Love for You to Join Us!
As part of our Sunshine program, Tri-Town YMCA volunteers check in on local seniors and spend a few minutes on the phone with them, making sure all is a-ok!  Hearing a friendly voice means so much! If you would like to volunteer once a week or more using your landline or cell phone, OR if you have someone living in Lombard, Villa Park or Oakbrook Terrace you would like to add to our call list, please contact the office at 630 629 9622 or email volunteer@tritownymca.org. Thank you so much!
We Are Now Registering for January-June 2019!
We've been busy transporting District 44 kiddos in our two school buses to and from our Calvary location! And we continue to provide outstanding care on site in District 45! We are looking forward to an amazing second semester!
Districts 44 & 45 2018 Jan-June Registration
District 44 Y's Kids will be conveniently bused to and from our new location: Calvary Episcopal, 105 W. Maple Street, right in downtown Lombard across from the library and Lilacia Park! Great before- and after-school spaces!
Wonder why we've been a success for  more than 31 years? Our parents love that our program provides:
STEAM (Science, Technology, Engineering, Arts & Math) and reading activities 3 times/week
daily character development activities
daily homework time
daily physical activities
daily healthy snacks
a special needs friendly environment
financial assistance for in-need families
In addition, our staff is vigorously background checked, certified in first aid and CPR, and trained in emergency procedures/drills. We partner with our parents in every way we can to help them bring the most to their families!
Now Offering Fantastic Expansion Programs for Middle Schoolers!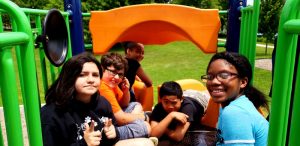 Check out our Team Inspire, which takes middle schoolers on a path to success!
Tri-Town YMCA: For A Better Us
For over 160 years the Y, a leading community-based organization, has adapted and changed as society changed, uniting "us" in over 10,000 communities across the nation. We now serve more than 22 million people annually.And, for the last 51 years, Tri-Town YMCA has strengthened the communities of Lombard, Villa Park and Oakbrook Terrace. We provide safe, enriching before- and after-school programs in nine area schools. . .we teach crazy good senior water fitness sessions. . . and we offer great resources that bring us together. Tri-Town is here…For a Better Us!