FOR COMMUNITY
Tri-Town Toast Cancelled for 2016
Please join us at our 50th Anniversary Dinner on October 12, 2016.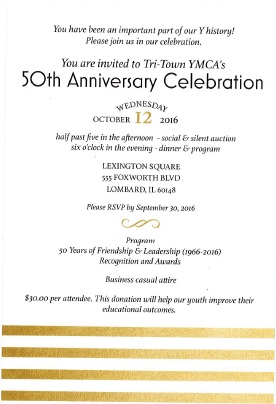 Registration is available for:
Y's Kids 2016-2017 School Year. Make sure you have your Y's Kids Parent Handbook! Download it here!
Click on Early Release Days to register your child for the days when school is let out 2 hours early. These early release programs will take place at your child's school so make sure to choose your school when registering. Currently, registration is only available to Y's Kids enrolled families. Families not enrolled in Y's Kids will have an opportunity to register based on availability on September 12th. School's that will have openings are Park View, Pleasant Lane, & Westmore.