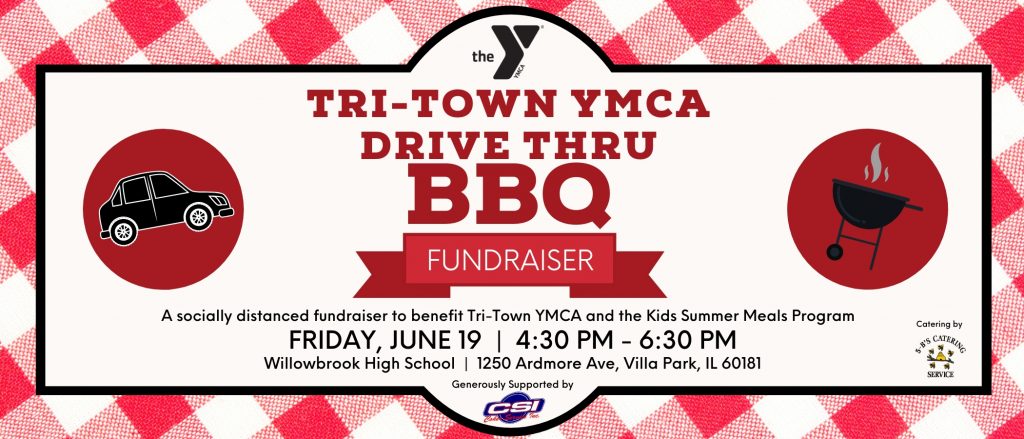 PRE-ORDER IS NOW CLOSED. WE WILL ACCEPT DAY OF ORDERS. PLEASE BRING CASH OR CREDIT CARD WITH YOU. 
Join us at Tri-Town YMCA's 2020 Drive Thru BBQ – a socially distanced fundraiser to help support the Kids Summer Meals program. Your purchase will help nourish kids that are depending on us this summer. All meals include a juicy, grilled pork chop, tender grilled 1/4 chicken, baked beans, coleslaw, applesauce, roll and butter in a to go container. Sorry no substitutions. Meals are cooked fresh on site by 5-Bee's Catering.
Orders can be picked up on Friday, June 19, 2020 beginning at 4:30pm. Orders must be picked up by no later than 6:30pm. Drivers are to enter the driveway in front of Willowbrook High School from the entrance off of Highridge Rd and will then proceed to the preorder/day of payment area and then over to the meal pickup space.
ROUND UP YOUR PURCHASE OR BECOME A SPONSOR
Round up your purchase to $20 and you can help feed a child for an entire week! We also have sponsorship opportunities available. Purchase your meal or sponsorship by clicking the Register Now button.