BE PART OF SOMETHING SPECIAL
VOLUNTEER OPPORTUNITIES
The Tri-Town YMCA is always looking for caring, knowledgeable people to join our staff.  The following volunteer positions may be available:
Sunshine Callers: 1 hour/weekdays, year round
Y's Kids Mentors: 1-2 hours/week during the school year
Christmas Tree Sales: weekday evenings or weekends;  Thanksgiving – Christmas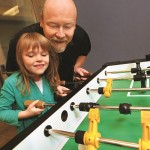 Day Camp Counselors: 9-10 weeks during the summer
Delivery of library books to homebound seniors: 2-3 hours/month, year round
We welcome and include people of all backgrounds, races, religions, incomes, ages and abilities.
 Many of our programs could not exist without Volunteers. Please consider donating your time.
 Benefits of volunteering at the Tri-Town YMCA:
Friendly, caring work atmosphere
Flexible hours
Training opportunities
Please call the Tri-Town YMCA, (630)629-9622, if you are interested in joining our team.
If you're interested in volunteering with us please fill out our  Volunteer Application and return to the TRI-TOWN YMCA office at 105 W. Maple in Lombard in Calvary Episcopal Church.