Best. Summer. Ever!  
Welcome to the 48th summer of Tri-Town YMCA day camp! Your camper will be moving, exploring, and learning all summer long, but what will really make this the best summer ever is the feeling of achievement, boost in confidence, and the sense of belonging they will receive! Help your child discover their potential and send them back to school with plenty of camp stories to share!
NEW THIS YEAR! We are offering a Y Adventure Camp for those entering 6th Grade – 8th Grade. This camp will be held at Jefferson Middle School. 
This year we have two Y's Kids Camp locations – Ardmore School & Jefferson Middle School! Camp meets from 7am to 6pm, Monday – Friday. Each week, campers will go on a field trip and go swimming at Jefferson Swimming Pool. Our field trip day for all camp sites is Wednesday and campers are to wear their camp t-shirt on field trip days. T-shirts will be issued at our Meet the Counselors Night and on the first day of summer camp. Campers are to bring their own lunch each day. Tri-Town YMCA will provide morning and afternoon snacks. Camp pricing is $195 per week. We also offer three-day a week and single-day pricing options, please click the link below to learn more about our pricing structure. 
Our official first week of camp begins on Monday, June 1, 2020 and our last day is Friday, July 31, 2020. If your child is out of school before June 1 and returns to school after July 31, we do offer camp programming at our Calvary Church location. 
There is a $40 non-refundable materials/registration fee for each child. There is a $10 administrative fee for any withdrawal or changes made once your registration has been submitted. Field trip destinations are subject to change.
Click on the image below to view our Summer Camp Handbook.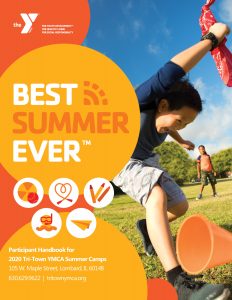 Summer Camp Weekly Field Trips for Y's Kids & Adventure Camp
6/3 Rock n' Jump in Carol Stream
6/10 SciTech Museum in Aurora
6/17 Santa's Village in Dundee
6/24 Haunted Trails in Joliet
7/1 Cantigny Park in Wheaton
7/8 LaserX Laser Tag
7/15 Marcus Theaters in Addison
7/22 Funway in Batavia
7/29 Waterworks Indoor Water Park in Schaumburg
8/5 Aurora Roller Rink in Aurora
8/12 Turtle Splash Water Park in West Chicago
Field trips are subject to change. 
For kids enrolled in summer camp at St. Matthew Parish School, there is a separate field trip calendar. The parent handbook will have more information.